I've had SO much interest lately from you all  wanting to know how to make your own recycled t shirt banner that I decided to post a *fairly* easy to follow tutorial. I would say that this is more of an intermediate sewing project but a beginner can and should definitely try it and see what happens! 
You can make these Recycled T Shirt Banners for anything! To decorate a Nursery, use for a Wedding, Birthday Party, Baby Shower, make for a Playroom, etc!
First of all, get a shirt, the larger the better as you will have more fabric to work with.
This is a Marvel Comic shirt for The Punisher, which I thought would be funky and fun to use.
Get a template. You can use anything that you want! Rectangles, triangles, squares, whatever!!! Pennant banners don't just have to be triangles like you see all over the place. Get creative. I use templates because it's easier for me to lay it over the fabric to be cut instead of measuring the shapes each time. 
Cut off the sleeves, neck and shoulder seams, as well as the side seams. Use your template to start cutting the pieces for your banner.
By keeping the shirt flat and together when you cut it, you will be cutting double the amount of pieces by slicing through the front and the back at the same time.
Now get your fusiable interfacing ready. I love Pellon "Featherweight Fusible", available at any sewing shop. The exact kind I use is 911FF, if that helps. 
Lay your pieces over the interfacing with the back on the glue bubbles of the interfacing. I'm sure that part is common sense but I feel obligated to say it anyway. Ha!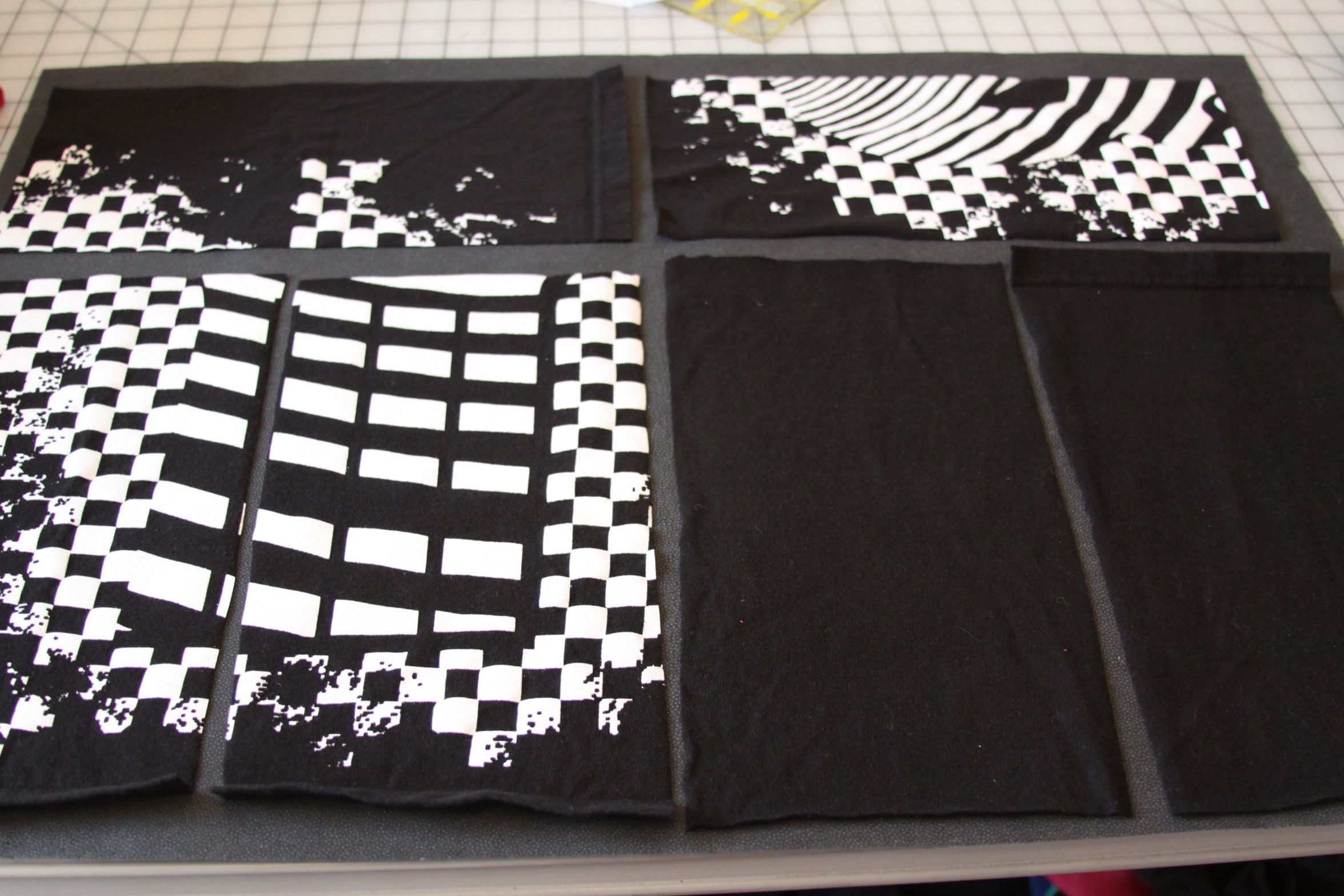 Make sure that you get a piece of fabric to lay OVER your project while ironing to keep the glue from melting on your iron!! Every single time I read the interfacing directions it says to never use steam. I love steam. I always use the steam even though I know it's not the correct way to do it. Do what you're comfortable with. (steam, steam , steam)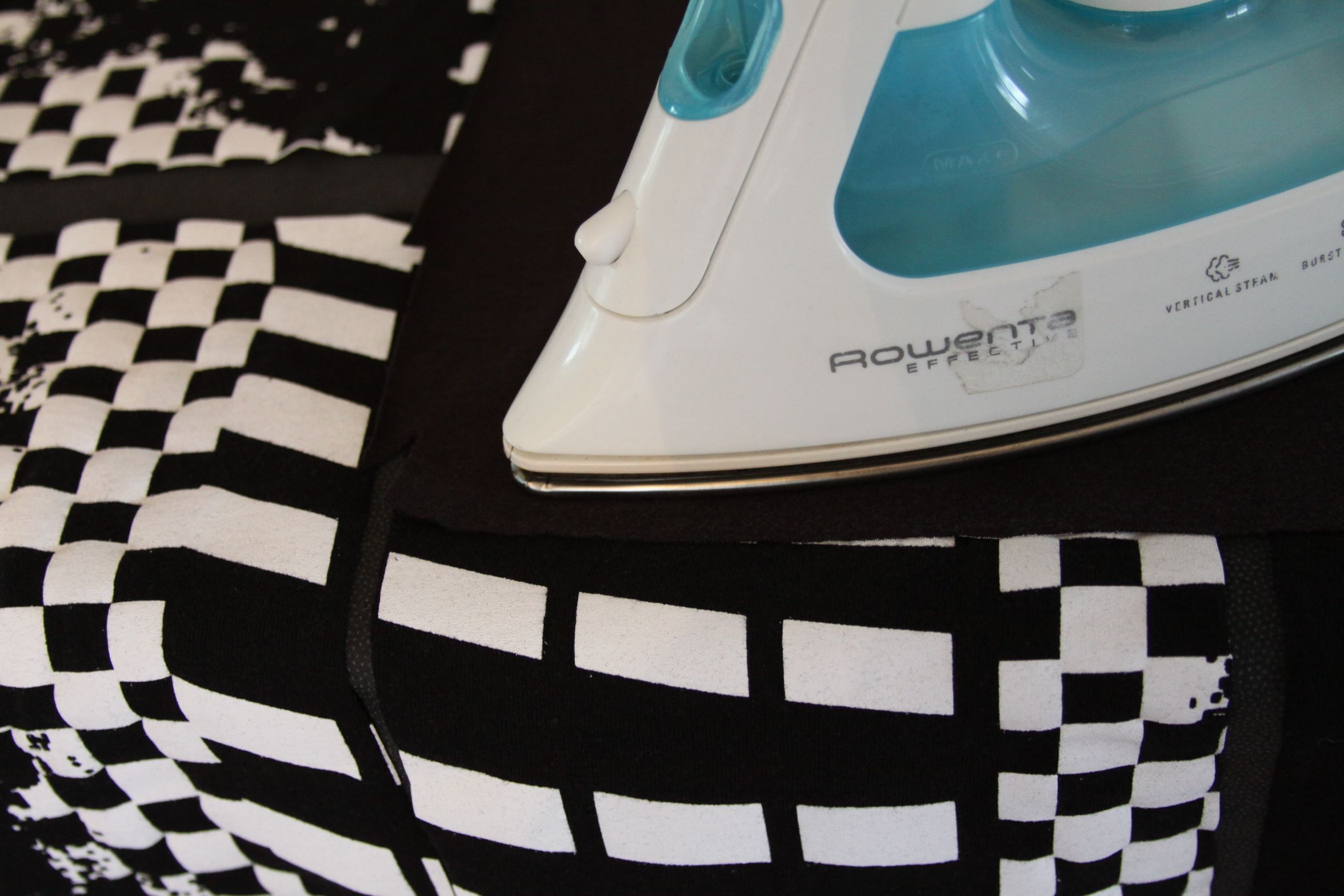 Now pull your fabric pieces apart (but be careful not to pull at the interfacing as it will warp and stretch) and rough cut out your pieces. Then get your original template and precision cut/trim your edges...
Now you want to sew all around every single piece to assure that your interfacing stays attached to your banner, especially at the corners.
Now you want to cut your binding that you'll use to string them all together. I use a binding ruler and just cut strips, just as I would for a quilt. 
Start off your banner by pinning your first piece about 10" down from the beginning of your binding strip. Sew it as the picture shows, BACK of the piece to the front of the strip. The front and back of the strip doesn't really matter UNLESS you have sewn together strips to form a super long piece, which I have done. (Then you will want the seam from the pieces to be folded inside and not shown on the outside)
Start sewing and I add another piece every three inches but you can do more or less, depending on what look you're going for!
Now after you have sewn every piece of your banner on to the strip, you will flip it over so the front of the pieces are up facing you. Then you need to fold your binding in half just as shown in the pic below. This is the SAME technique for machine binding of a quilt.
Sew it closed and continue down the strip. It should be a smooth and fluid transition when you get to your banner piece and you continue to fold over and sew.
And that's it! This banner is ready to be hung in any room to add fun and excitement!! 
 My favorite part of using t shirts for banners is that you can put your favorite things on display in a new and interesting way!! Think of all of the recycled t shirts that you could use for this project! Use this for Birthday Parties, Weddings, Schools, Nurserys, Baby Shower Gifts, etc!! You can make these for anything!!